Pipeline
Offering products that women want
Daré is committed to identifying, licensing and developing candidates that expand options, improve outcomes, and enhance safety for women across the broad spectrum of reproductive health.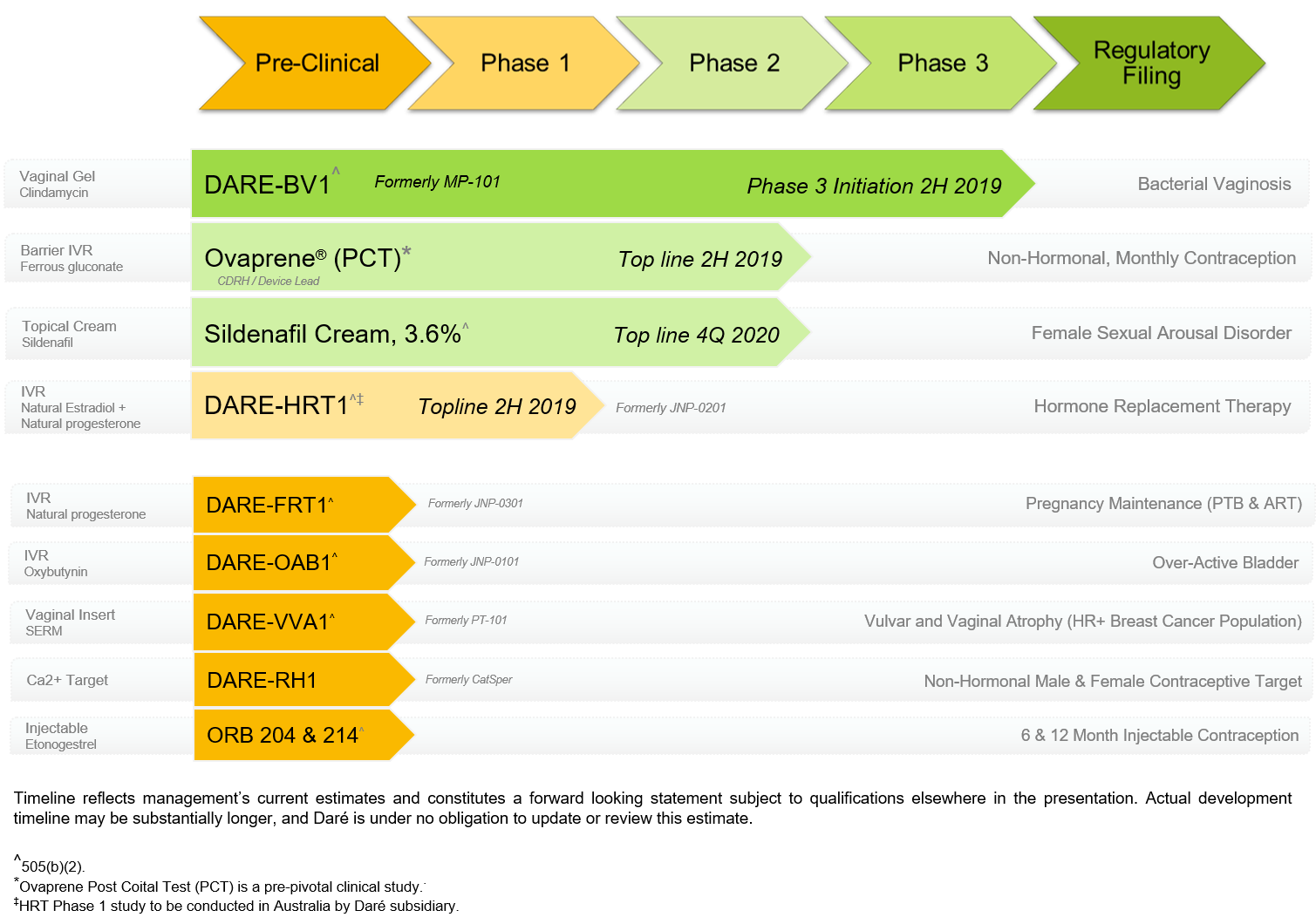 DARE-BV1 (formerly MP-101)
Within the women's health market, bacterial vaginosis (BV) is the most common type of vaginal infection in women of reproductive age. It is caused when the normal balance of vaginal bacteria is disrupted. According to the Center for Disease Control, 16% of pregnant women in the United States suffer from BV and it is among the most common conditions found in women in health care settings. Currently, in the U.S., oral and intravaginal metronidazole, intravaginal clindamycin and oral tinidazole are available for the treatment of BV.
DARE-BV1 is an in-situ gelling bio-adhesive intra-vaginal gel formulated with 2% clindamycin designed to release the active ingredient for up to 7 days. Research has shown that effective drug delivery is essential to optimizing drug therapy for BV. Because of its chemical composition, DARE-BV1 is non-toxic and does not compromise condoms or diaphragms.
In-Situ gelation
DARE-BV1 is a viscous liquid that undergoes solution to gel (sol-to-gel) transition using body temperature as the trigger. This property allows the product to be more easily directed to the site of infection. The temperature of gelation point can be modulated to fit the need/requirement of the product design. By the process of "reverse thermal gelation", the viscosity of the base matrix increases 2 to 4x of its viscosity at room temperature.
DARE-BV1 is a novel product candidate for the treatment of BV. This product opportunity offers a distinct competitive advantage to the products currently on the market in that DARE-BV1 is designed to be a single treatment product.
Clindamycin has been found to be effective against organisms usually associated with BV such as Bacteroids spp., Peptococcus spp., Gardnerella vaginalis, Mobiluncus spp. and Mycoplasma hominis. Clindamycin, based on the PK-PD approach to dosing, can be classified as a time-dependent antibiotic for which maximizing the exposure time and the amount of drug is recommended. Topical application, safety, and efficacy of vaginally-delivered clindamycin phosphate have been widely demonstrated in published literature.
DARE-BV1, formulated with clindamycin, is designed to produce a dual release pattern (an initial burst with ~ 50% released in 3 days, followed by a slow release of the second 50% over the following 4 days), providing prolonged duration of exposure to clindamycin at the site of infection.
Bacterial Vaginosis Study
A proof of principle, investigator-initiated study was conducted to assess the safety and efficacy of DARE-BV1 in the treatment of 30 women, ages of 18 and 50, with confirmed cases of BV.
Eligibility: Female subjects, ages 18 to 50, with a confirmed clinical diagnosis of BV were administered a single dose of DARE-BV1 2% clindamycin vaginal gel. Clinical and microbiological evaluations were performed as per the provided guidance at baseline, test-of-cure visit, and continued clinical response visits.
Results: Of the 30 enrolled subjects, 4 subjects did not complete the study (1 voluntarily opted for oral medication for odor after 1st week, 1 did not attend the second appointment, 1 was treated orally after the first week due to menses and 1 was excluded from the study for positive STD test),and were excluded from cure rate calculations.
Test-of-Cure (TOC) Visit (Day 7 to Day 14): Subjects reported no adverse reactions or uncomfortable feeling after receiving DARE-BV1. Twenty-six subjects were evaluable, 23 of which(88%) were determined to have been successfully treated (clinical cure) with one dose of DARE-BV1 at the TOC visit.
*Data on file
Non-hormonal monthly contraceptive - Ovaprene®
Ovaprene® is a clinical stage, non-hormonal contraceptive ring intended to provide protection over multiple weeks of use, require no intervention at the time of intercourse, and fill a void in today's contraception method mix. It represents a new approach to contraception and if approved, will represent a new birth control category.
Different by design
Today, there is a need for a safe non-hormonal contraceptive method that does not require action at the time of intercourse and that provides a level of "typical use" contraception effectiveness approaching that of hormones. The most popular short-acting non-hormonal contraceptive options include condoms and spermicides, methods that lack convenience and have modest "typical use" efficacy ranging from 72-82%.​
We believe that a non-hormonal monthly contraceptive ring that is convenient (inserted and worn for multiple weeks), safe and demonstrates typical use effectiveness comparable to diaphragms, pills, patches and hormonal rings (which have 88-91% contraceptive effectiveness in "typical use") has the potential to capture market share across the broad spectrum of short-acting methods, primarily from non-hormonal contraceptive users and current non-users of any form of contraception, but also from a small segment of hormonal contraceptive users.​
Women value convenience and safety. Most women would prefer a contraceptive method they don't need to remember to take every day and that does not require action at the time of intercourse. A contraceptive ring, whose monthly use is initiated and controlled by a woman, has numerous attributes that women find appealing:
An estimated 67% of women said that a monthly vaginal ring has most of the features they deemed extremely important.
Nearly 85% would prefer a monthly option with a lower hormone dose than the oral birth control pill.
An estimated 80% of women currently use a non-coital dependent method.
Ovaprene® is designed to provide multiple weeks of contraceptive protection without the use of hormones. ​
Ovaprene® has a custom intravaginal ring design, with a permeable mesh in the center a small silicone ring that creates a partial barrier to sperm, and a mechanism to release locally acting spermiostatic agents through the ring. The silicone ring release a locally acting spermiostatic agent through the ring. The silicone ring releases ferrous gluconate which acts to create a spermiostatic environment. The non-braided multi-filament mesh component functions as a physical barrier to sperm. The unique combination of these two complementary approaches seeks to produce attractive contraceptive efficacy outcomes that are consistent with the most effective barrier option, the diaphragm, and short-acting hormonal options (pill, patches and vaginal ring) that provide 88-91% effectiveness in "typical use".

Encouraging Results To Date
In a pilot clinical study conducted in 21 women, Ovaprene® demonstrated the ability to immobilize sperm and prevent their progression into the cervical mucus. The study also demonstrated the acceptability of the device to both partners. No serious adverse events were reported. (Journal of Reproductive Medicine 2009; 54:685–690)
​Ongoing Clinical Development
The FDA previously determined that the division to lead the review of Ovaprene® will be the Center for Devices and Radiological Health (CDRH) and that Premarket Approval, or PMA, from the FDA will be necessary to market Ovaprene® in the United States. We believe the clinical development plan for Ovaprene® will be guided by the size, structure and results of other barrier contraceptive devices using active agents that obtained approval from CDRH. We believe those other product development plans leading to FDA approvals provide a good indication of the FDA requirements likely to be required for Ovaprene®. Specifically, in addition to demonstrating biocompatibility and safety, we expect the clinical requirements for FDA approval for Ovaprene® to be: obtaining safety and preliminary efficacy data in a postcoital test ("PCT") clinical trial, and conducting one large, single arm safety and efficacy study, the pivotal clinical trial.
PCT Clinical Trial
We intend to conduct the PCT clinical trial for Ovaprene® in collaboration with a leading organization in contraceptive research, CONRAD, which was established in 1986 under a cooperative agreement between Eastern Virginia Medical School and the U.S. Agency for International Development (USAID). CONRAD has conducted PCT studies on numerous currently FDA approved barrier methods of contraception, and conducted the PCT and pivotal trials for the Caya® diaphragm, the most recent barrier contraceptive to receive approval through CDRH. Contraceptive PCTs are generally conducted in 15-30 subjects.
Pivotal Clinical Trial
Assuming positive results from our planned PCT clinical trial of Ovaprene®, our intention is to conduct a pivotal contraceptive efficacy clinical trial of similar size and duration as Caya®. Caya®'s contraceptive pivotal study evaluated pregnancy rates in approximately 250 women over a period of six months. Prior to the completion of the U.S. pivotal study of Ovaprene®, we may seek a CE Mark approval for Europe using a subset of the total pivotal clinical trial population. The receipt of E.U. or U.S. regulatory approvals can be used to support registration in many other countries around the world.
​Looking Toward The Future
At Daré, we are committed to developing a portfolio that expands options, improves outcomes, and enhances safety across a spectrum of reproductive health needs for women worldwide. With this goal in mind, in addition to Ovaprene®, we have identified other potential product candidates in women's reproductive health that meet these selection criteria. We are in discussions with the owners of these products as we may seek to license such products to build a product pipeline over time.
FEMALE SEXUAL AROUSAL DISORDER (FSAD) – Sildenafil Cream, 3.6%
Sildenafil Cream, 3.6% for Women with FSAD

Female sexual arousal disorder (FSAD) is characterized by a persistent or recurrent inability to attain or to maintain sexual arousal until the completion of sexual activities.1 As many as thirty-three percent of women in the U.S. (21 to 60 years old) experience symptoms of low or no sexual arousal.2 Up to an estimated ten million women in the U.S. are affected and/or distressed by this condition and seek a solution to improve their condition.3

There are no approved products in the U.S. that specifically address the symptoms or underlying pathology of FSAD. Orally administered sildenafil received FDA approval in 1998 for the treatment of erectile dysfunction in men and is marketed under the brand name Viagra®. Oral sildenafil also demonstrated biological activity when studied in women,4 but due to differences between male and female physiology, it is expected that a topically administered formulation of sildenafil (applied directly to the genital region) may have advantages over the oral formulation. Sildenafil Cream, 3.6% is a unique, proprietary topical formulation of sildenafil that is specially formulated for women in a topical cream dosage form and is designed to be applied directly to the genital tissue. Based on known biological pathways for the molecule, Sildenafil Cream, 3.6% is expected to increase local blood flow to the genital tissue, which we believe will lead to an improvement in genital response and overall sexual experience.
More specifically, studies of women have demonstrated that an improvement in genital blood flow is linked to increased arousal and improved sexual experience.5 Sildenafil is known to inhibit PDE5, leading to an increase in smooth muscle relaxation and improved blood flow.6 Our Sildenafil Cream, 3.6% is expected to exhibit similar PDE5 inhibitor effects on female genital tissue. In a Phase 2a trial in women with FSAD, Sildenafil Cream, 3.6% demonstrated increases in measurable blood flow to the genital tissue when compared to placebo.7

We held a Type C meeting with the FDA to discuss the Phase 2 and 3 trial designs for Sildenafil Cream, 3.6% in FSAD patients in the summer of 2018. Currently, the planned Phase 2 trial is expected to evaluate the product candidate under real-life conditions in women with FSAD. Clinical endpoints are expected to include patient reported outcomes (PROs) using validated questionnaires, and FDA's input was requested on the proposed PROs and questionnaire tools as well. The objective of the Phase 2 and 3 trials is to establish the efficacy and safety of Sildenafil Cream, 3.6% for this proposed use in order to support future regulatory applications to bring an important new treatment for women to commercial markets.
1Human Sexuality and Its Problems (Third Edition), 2009
2Ad Hoc Market Research: FSAD Prevalence Report (Oct 2015) conducted for SST LLC.
316% of women are distressed per Ad Hoc Market Research: FSAD Prevalence Report (Oct 2015) conducted for SST LLC. Based on US Census projections for 2016 this equates to 10 million women.
4The Enhancement of Vaginal Vasocongestion by Sildenafil in Healthy Premonopausal Women. Journal of Women's Health & Gender-Based Medicine. Vol. 11, No. 4. 2002; The Effect of Sildenafil Citrate on Uterine and Clitoral Arterial Blood Flow in Postmenopausal Women https://www.ncbi.nlm.nih.gov/pmc/articles/PMC1480594/
5Safety and Efficacy of Sildenafil Citrate for the Treatment of FSAD: A Double-Blind, Placebo Controlled Study. The Journal of Urology. Vol 170, 2333-2338, December 2003.
6Viagra® prescribing information, Mechanism of Action Section 12.1, https://www.viagra.com, https://www.accessdata.fda.gov/drugsatfda_docs/label/2014/20895s039s042lbl.pdf
7Date on file.
Intravaginal Ring (IVR) Technology Platform​
Daré has an exclusive, global license to Juniper's novel intravaginal ring technology that was developed by Dr. Robert Langer from the Massachusetts Institute of Technology and Dr. William Crowley from Massachusetts General Hospital and Harvard Medical School. ​
The Juniper intravaginal ring technology allows for sustained drug delivery over time periods ranging from weeks to months. Unlike other vaginal rings, the Juniper intravaginal rings release drugs in a solid ethylene vinyl acetate polymer matrix without the need for a membrane or reservoir to contain the active drug or control the release.​
Current 505(b)(2) candidates under development by Juniper include JNP-0101, an oxybutynin ring for the treatment of overactive bladder; JNP-0201, a combination estradiol + progesterone ring for hormone replacement therapy; and JNP-0301, a natural progesterone ring for the prevention of preterm birth.
​Daré's exclusive license covers all three rings in development as well as additional applications of the intravaginal ring technology platform in other therapeutic areas.​
Vulvar and Vaginal Atrophy & Hormone Receptor-Positive Breast Cancer Patients
Vulvar and Vaginal Atrophy (VVA) is a chronic condition characterized by pain during intercourse, vaginal dryness and irritation brought on from reduced estrogen levels. For many women, first-line treatments typically include localized estrogen therapy. However, this therapeutic approach is often contraindicated for more than two million women diagnosed with, or at risk of recurrence of, ER-positive and PR-positive breast cancer. Daré intends to develop this novel local application of tamoxifen to mitigate the symptoms of VVA for patients with or at risk for hormone-receptor-positive breast cancer, including women currently on anti-cancer therapy. Approximately 10 percent of women in the U.S. will develop breast cancer. The prevalence of VVA in postmenopausal breast cancer patients is reported to be between 42 and 70 percent. Daré believes there is a large unmet need for a novel non-hormonal VVA treatment specifically developed for this subset of cancer patients and survivors. If approved, PT-101 has the potential to be the first treatment specifically developed for VVA in patients with hormone-receptor positive breast cancer.
1. Cancer.org; https://www.cancer.org/cancer/breast-cancer/about/how-common-is-breast-cancer.html
2. NCI Sourced Data: https://www.surgerygroupofla.com/procedures/breast-cancer-surgery/breast-cancer-statistics.aspx
3. Clinical Breast Cancer: https://www.sciencedirect.com/science/article/pii/S1526820917300952