Product Lineup
daring to develop differently

Our Product Lineup
Daré Bioscience, Inc. ("Daré") is a healthcare company committed to the development and commercialization of innovative products in women's reproductive health. We believe there is an unmet need globally for new product candidates that expand options, improve outcomes and are easy to use. By advancing these products, we seek to expand choices and to make a difference in the lives of women worldwide.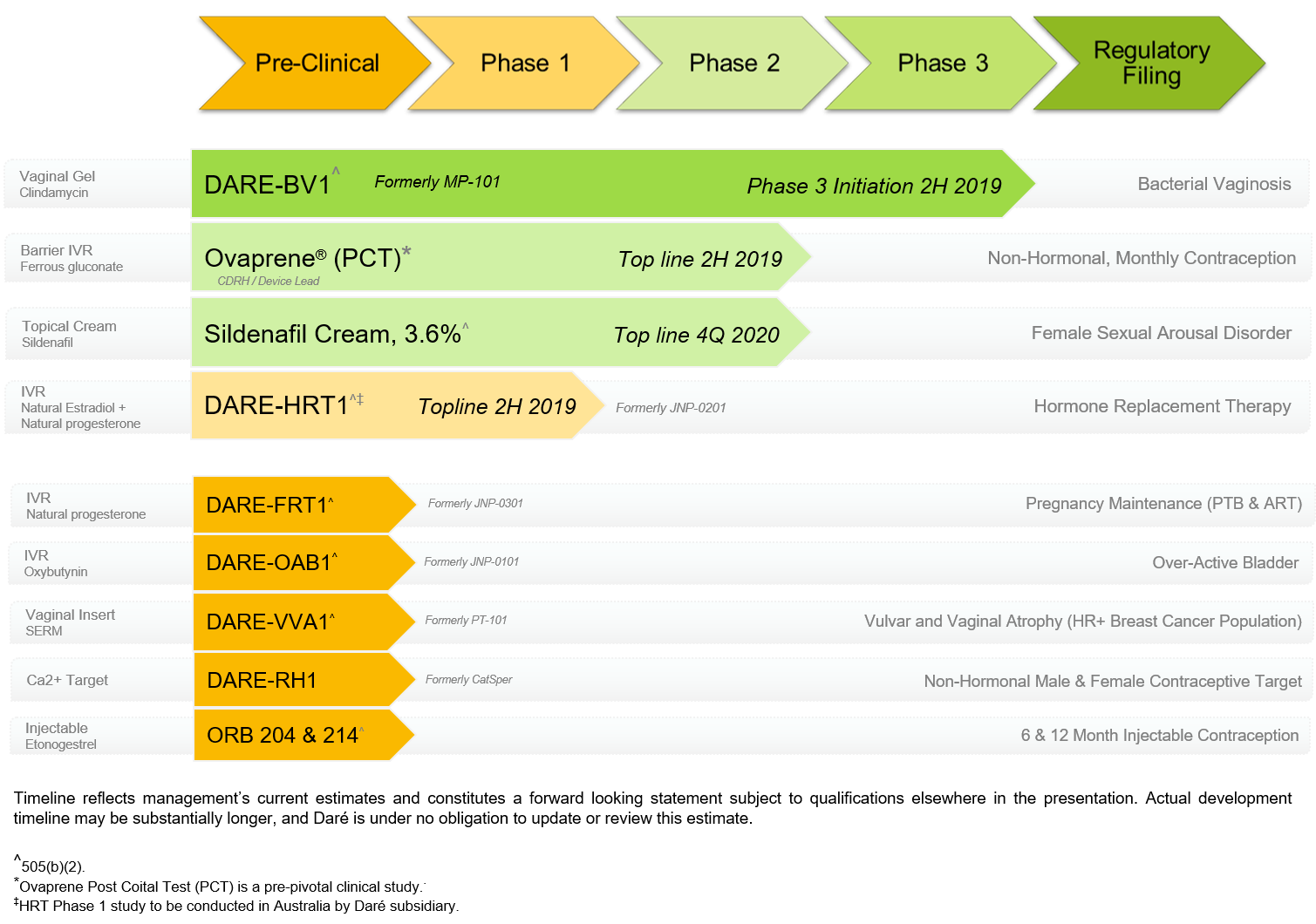 DARE-BV1 (formerly MP-101)
DARE-BV1 is a novel, late-stage product candidate for the treatment of Bacterial Vaginosis (BV) that utilizes a proprietary bio-adhesive intra-vaginal gel formulated with 2% clindamycin tailored to release the active for up to 7 days after a single dose. Clindamycin has been found to be effective against organisms usually associated with BV such as Bacteroids spp., Peptococcus spp., Gardnerella vaginalis, Mobiluncus spp. and Mycoplasma hominis.

Ovaprene®
Ovaprene® is designed to provide multiple weeks of contraceptive protection without the use of hormones.
Learn More
Sildenafil Cream, 3.6% is a unique, proprietary topical formulation of sildenafil that is specially formulated for women in a topical cream dosage form designed to be applied directly to the genital tissue.
Learn More
Pre-Clinical Programs
Collaborations on the advancement of novel product candidates and innovative technology platforms, that have been supported to date by both private and public investment, help reinforce Daré's position as a coordinating presence in women's sexual and reproductive health.
Learn More